Brand Finance Global 500 2021 — Equinor and Telenor Among Most Valuable Brands Globally
Five years since it last held top spot, Apple is named world's most valuable brand by Brand Finance Global 500 2021 ranking as diversification strategy finally pays off, brand value US$263.4 billion
Equinor and Telenor among most valuable brands globally, with Equinor as 11 th most valuable oil & gas brand according to Brand Finance Oil & Gas 50 report
As newtechnologies drive brand value across industries, Tesla leaves traditional auto marques behind with fastest brand value growth in ranking, up 158%
E-commerce brands thrive in new normal, with Alibaba.com doubling in brand value, but chain retailers cash in on home delivery too – Walmart climbs up to 6 th rank
Traditional media brands continue to suffer as lockdowns boost popularity of streaming services –CBS is fasting-falling brand in ranking, down 49%
Grounded by COVID-19 pandemic, airline and aerospace sectorsaccount for 6 out of 10 fastest-falling brands in ranking
Hospitality suffers from travel and dining restrictions, as Marriott and Airbnb check out from ranking and Starbucks, McDonald's, and KFC see brand values drop
WeChatovertakes Ferrari to becomeworld's strongest brand with top score of 95.4 out of 100 and AAA+ brand strength rating
Mastercard's Ajay Banga best among top 100 CEOs in Brand Finance Brand Guardianship Index 2021, as commitment to technological innovation pays off
Apple has overtaken Amazon and Googleto reclaim the title of the world's most valuable brand for the first time since 2016, according to the latest report by Brand Finance – the world's leading brand valuation consultancy. Apple has the success of its diversification strategy to thank for an impressive 87% brand value increase to US$263.4 billion and its position at the top of the Brand Finance Global 500 2021 ranking.
Under Tim Cook's leadership, especially over the past five years, Apple began to focus on developing its growth strategies above and beyond the iPhone – which in 2020 accounted for half of sales versus two-thirds in 2015. The diversification policy has seen the brand expand into digital and subscription services, including the App Store, iCloud, Apple Podcasts, Apple Music, Apple TV, and Apple Arcade. On New Year's Day alone, App Store customers spent US$540 million on digital goods and services.
Apple's transformation and ability to reinvent itself time and time again is setting it apart from other hardware makers and has contributed to the brand becoming the first US company to reach a US$2 trillion market cap in August 2020. With rumours resurfacing that Apple's hotly anticipated Titan electric vehicle foray is underway again, it seems that there is no limit to what the brand can turn its hand to.
David Haigh, CEO of Brand Finance, commented:
"Steve Jobs' legacy continues to flow through Apple, with innovation built into the brand's DNA. As Apple reclaims the title of the world's most valuable brand from Amazon five years since it last held the top spot, we are witnessing it Think Different once again. From Mac to iPod, to iPhone, to iPad, to Apple Watch, to subscription services, to infinity and beyond."
Amazon thrives in 2020
Despite relinquishing its position at the top, second-ranked Amazon has still managed to record a healthy 15% brand value growth to US$254.2 billion. The retail giant is one of the few brands that benefitted considerably from the pandemic and the resulting unprecedented surge in demand as consumers turned online following store closures. Over Q2 and Q3 of 2020, e-commerce platforms experienced the highest revenue growth since 2016.
Most recently – further leveraging the circumstances of the pandemic – Amazon has acquired 11 passenger planes from struggling North American airlines to expand its air logistics capabilities. A tactical purchase to support its fast-growing customer base, but also a strategic move towards building its own end-to-end supply chain, the fleet can allow the brand to become a serious contender in air transportation in due time.
Another example of Amazon's relentless innovation in the face of global adversity, the brand has also announced its foray into the health sector with the launch of Amazon Pharmacy and fitness tracker Halo. Before it brought success to Apple, daring diversification had already been the hallmark of Amazon's growth strategy, which it continues to pursue with impressive results.
David Haigh, CEO of Brand Finance, commented:
"Playing a crucial role in supporting a new economic mode in lockdown, Amazon has found itself at the centre of attention more than ever before. With a revenue boost came reputational risks – from questions about the treatment of workers, to accusations of benefitting from the tragedy of the pandemic, to pushback against a global corporation in support of local retailers. Jeff Bezos has a difficult task at hand to steer the Amazon brand through dangerous waters."
Also leapfrogged by Apple, Google sits in third spot following a marginal 1% uplift in brand value to US$191.2 billion. Slightly behind its peers in terms of diversification, Google recorded its first ever revenue decline as a result of the pandemic. The vast majority of the brand's revenue comes from advertising, which took a hit over the last year as marketing budgets tightened.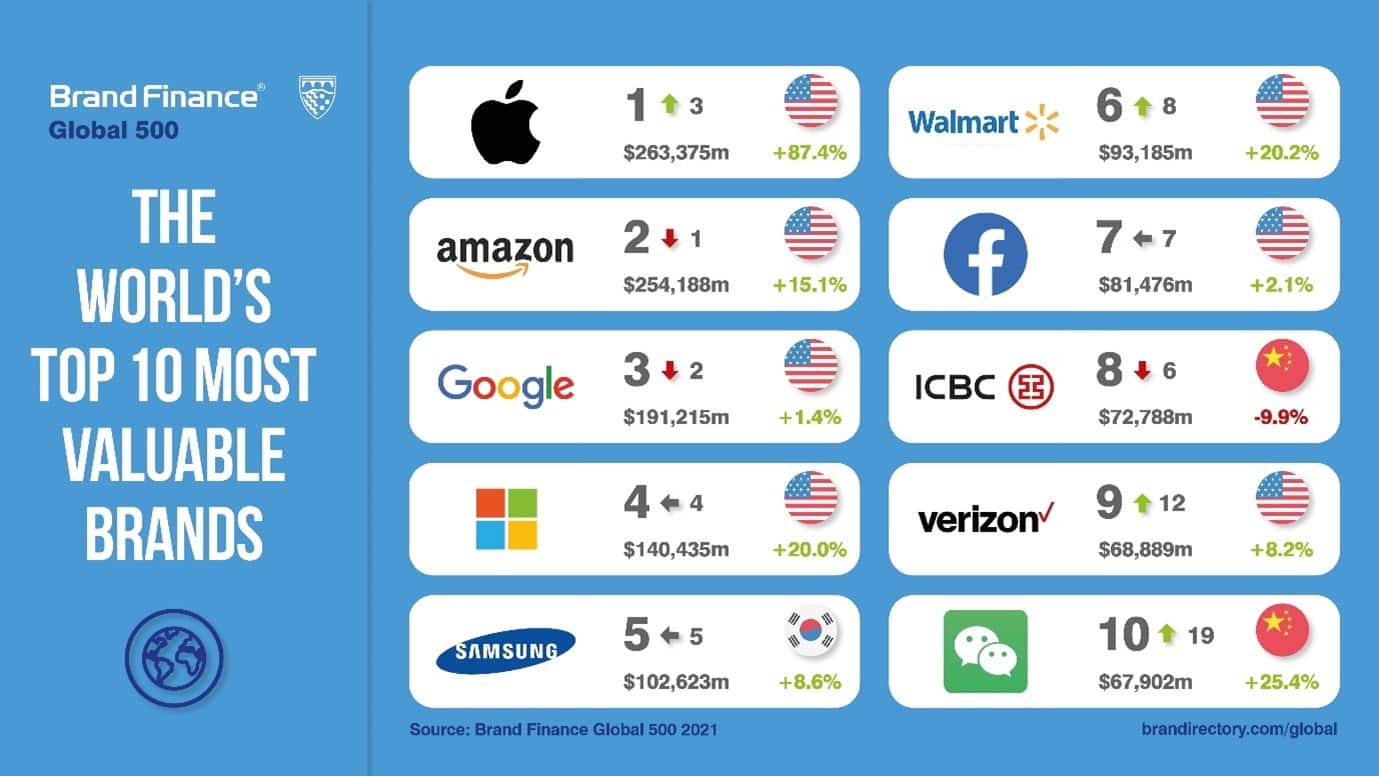 Equinor and Telenor only Norwegian brands on ranking
Oil & gas brand, Equinor, down 6% to US$8.9 billion, is the highest ranked Norwegian brand globally and the sector's 11 th most valuable, according to the latest Brand Finance Oil & Gas 50 2021 report. As oil & gas brands have struggled to negotiate the fallout from the COVID-19 pandemic and rising wave of public pressure for sustainability, Equinor has followed industry trends by sliding 13 spots down the ranking to 200 th place. However, the brand's strong focus on sustainability – which continues to earn global recognition – may help it recover lost brand value in the coming year.
In 274 th place on the ranking is largest telecoms brand in Norway, Telenor, which has increased in brand value by 11% to US$7.0 billion. The brand has focused on maintaining steady growth both domestically and abroad, opening the first commercial 5G network in Norway and being met with success in its foreign markets, particularly Thailand and Bangladesh.
Technology drives brand value
In a year epitomised by global lockdowns, with working from home becoming the new normal and an unprecedented reliance on digital communication, retail, and entertainment, tech brands and brands successfully leveraging technological innovation have significantly boosted their brand values. Accounting for 14% of total brand value in the 2021 ranking, tech remains the most valuable sector in the Brand Finance Global 500, with 47 brands represented and a combined brand value just shy of US$1 trillion at US$998.9 billion.
Aided by the increased demand for home deliveries and safe means of travel during the pandemic, Uber has seen a 34% brand value jump to US$20.5 billion and entered the top 100 at 82 nd . Similarly, Meituan, China's largest provider of on-demand online services has gone up by an impressive 62% to US$7.2 billion, resulting in one of the biggest hikes up the ranking, as it jumped 216 spots to 265 th .
Similarly, software providers such as Microsoft (up 20% to US$140.4 billion), SAP (up 9% to US$18.0 billion), Salesforce (up 29% to US$13.2 billion), Adobe (up 25% to US$11.7 billion), and a new entrant to the ranking, Servicenow (up 39% to US$4.3 billion), all enjoyed a boost in brand value as businesses raced to transition online and offices gave way to remote working for the greater part of last year.
David Haigh, CEO of Brand Finance, commented:
"With the onset of the pandemic, tech brands have experienced unprecedented demand for their products and services. At the same time, across sectors, brands which have pushed the boundaries of technological innovation have remained a cut above the rest, able to pivot their business to adapt to consumers' changing needs. 2021 is the final call to get on board for all brands still stuck in the 20 th century."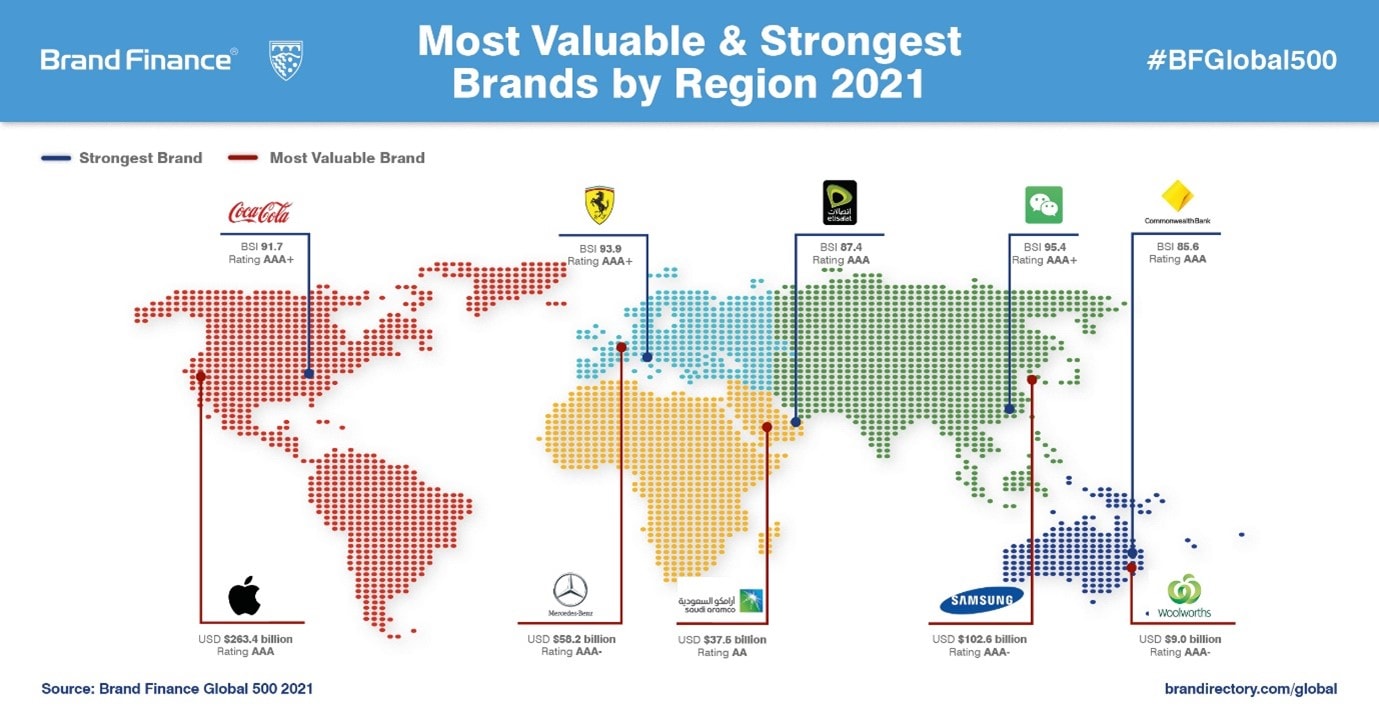 Tesla races up ranking
The importance of technological innovation as a driving force behind brand value is best exemplified by Tesla (up 158% to US$32.0 billion), the fastest-growing brand in the Brand Finance Global 500 2021 ranking. Emerging unscathed from the various controversies surrounding CEO, Elon Musk, Tesla's market capitalisation has grown by an eyewatering US$500 billion over the last year, making it worth as much as the nine largest automobile manufacturers in the world combined.
The California-headquartered auto brand has also celebrated record numbers of sales this year, ramping up production of its Model Y car and expanding into new markets by opening a plant in Shanghai. As the world's best-selling plug-in and battery electric passenger car manufacturer as well as a pioneer in using artificial intelligence in the automobile industry, Tesla has continued to strive for innovation and sustainability, developing more efficient battery cells.
While Teslaraces ahead of the crowd, it has been a difficult year for most traditional car marques in the Brand Finance Global 500 2021 ranking, as 4 in 5 have either depreciated in value or stagnated. Last year's most valuable brand in the industry, Mercedes-Benz (down 10% to US$58.2 billion) has seen the largest brand value drop among all auto manufacturers in the ranking. The iconic German marque struggled to formulate a coherent electric mobility strategy and communicate a clear vision for its electric car models. With sales further impacted by the COVID-19 pandemic, Mercedes-Benz slipped in the ranking behind Toyota (up 2% to US$59.5 billion).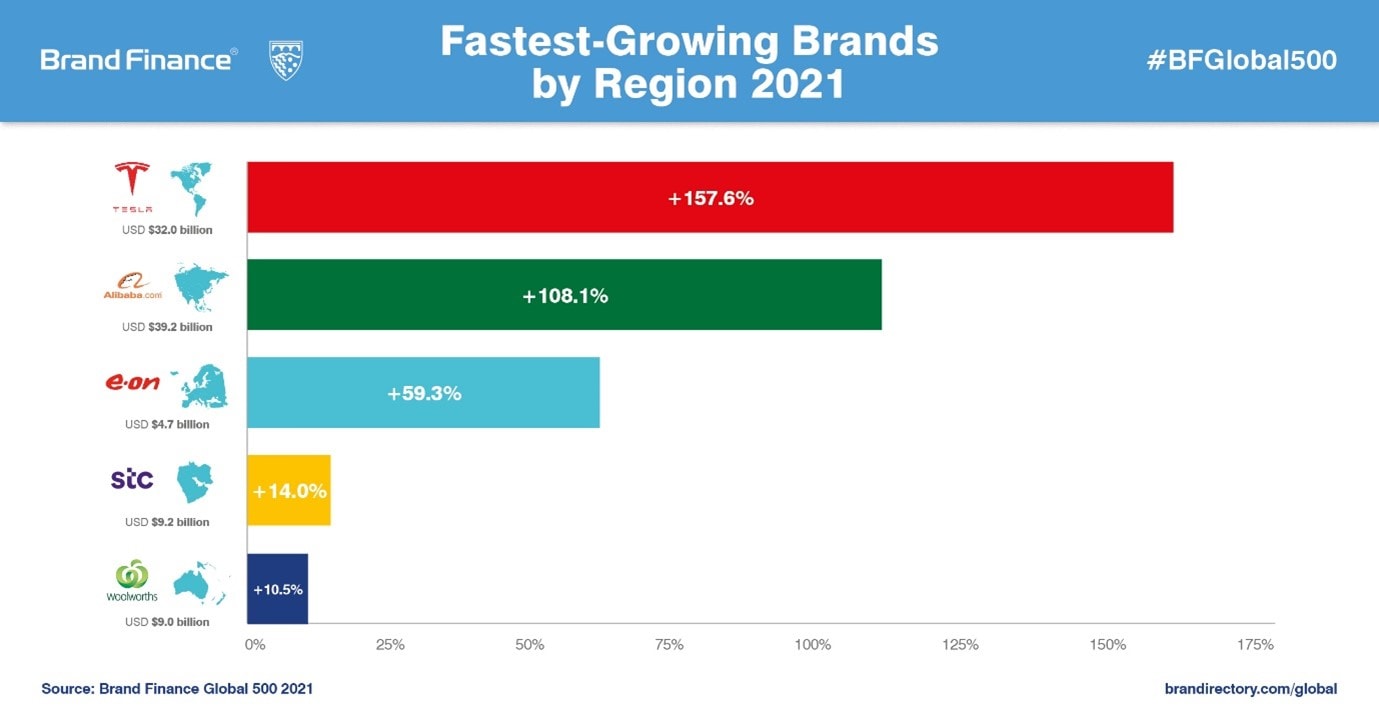 E-commerce cashes in
Another testament to the role of technology in driving brand value, e-commerce brands are among those retailers to have thrived the most in the past year, with Amazon's impressive performance at the centre. Chinese equivalent, Alibaba.com has also benefitted from the unprecedented surge in demand, as consumers turned to online shopping during the pandemic. The retail giant's brand value has been boosted by an eyewatering 108% to US$39.2 billion, making it the second-fastest growing brand in the ranking behind Tesla. Alibaba subsidiaries, Taobao,up 44% to US$53.3 billion, and Tmall,up 60% to US$49.2 billion, have enjoyed parallel successes, their online business models providing ease of access and convenience for consumers.
At the same time, many traditional brick-and-mortar retailers which have successfully leveraged technology to offer online delivery options and develop digital in-store improvements, have also fared well during the COVID-19 lockdowns. Walmart (up 20% to US$93.2 billion) has inched up to 6 th place in the overall ranking, following an impressive spike in earnings. With targeted investments in e-commerce and over 400,000 workers hired in the last year to stock shelves and fulfil online orders, Walmart has been quick to adapt to the surge in demand.
Similar strategies have been beneficial to Target (up 30% to US$20.7 billion), Dollar General (up 28% to US$9.6 billion), and Costco (up 28% to US$28.9 billion) in the US, as well as E.Leclerc (up 27% to US$8.3 billion) and El Corte Inglés (up 19% to US$6.1 billion) in Europe, which have all seen significant brand value growth as they offered quick turnaround for online orders, reserved slots for elderly and at-risk shoppers, and implemented ship-from-store order fulfilment processes.
Digital media stream on
Yet again demonstrating the importance of future-proofing brands by going digital, gaming and streaming services enjoyed a significant boost in brand value this year as users turned to online means of entertainment in the wake of the pandemic. Netflix enjoyed a spike in usage, causing its brand value to increase by 9% to US$24.9 billion. With 37 million new users by the end of 2020, Netflix's success has driven improved revenue forecasts and brand equity scores. Despite this, the streaming platform's growth was not as substantial as in previous years due to challenges posed by competitors such as Disney (down 9% to US$51.2 billion) and new entrant HBO (down 3% to US$4.0 billion).
In line with positive trends in brand value in the new media sector, Spotify entered the ranking for the first time, enjoying an impressive 39% boost in brand value to US$5.6 billion. The last year has seen a significant increase in new users as the music streaming platform expanded its operations into 13 new markets.
Another new entrant to the ranking, Electronic Arts (up 14% to US$4.4 billion), enjoyed a similar boost in revenue forecasts as many consumers turned to gaming to pass the time during lockdown. The brand is poised to continue this trajectory in the coming year, renewing its 10-year partnership with La Liga to retain the rights to its exclusive video game. Two other gaming giants, Tencent and Activision Blizzard saw even larger brand value boosts, up 28% to US$56.4 billion and up 20% to US$6.3 billion.
Unlike its new media counterparts, COVID-19 has exacerbated the issues faced by traditional media brands – including NBC (down 44% to US$8.4 billion), 20th Television (down 25% to US$6.1 billion), and Universal (down 21% to US$11.6 billion) – as production was halted and advertising budgets cut. The hardest hit is CBS – the fastest-falling brand in the Brand Finance Global 500 ranking this year. The network's brand value has dropped by 49% to US$5.9 billion following a fall in advertising revenue and a disastrous merger with Viacom.
Long haul problems for aviation
A clear impact of the COVID-19 pandemic, aerospace and airline brands account for six out of the ten fastest-falling brands in this year's Brand Finance Global 500, including Boeing (down 40% to US$13.6 billion), American Airlines (down 40% to US$5.3 billion), United Airlines (down 39% to US$5.0 billion), Delta (down 38% to US$5.8 billion), Airbus (down 36% to US$9.1 billion), and Safran (down 32% to US$4.3 billion).
Boeing's woes continue as its brand value records yet another dent. The brand has spent much of the last two years in a state of crisis following the two fatal crashes that grounded its 737 Max in March 2019 and its problems have compounded further throughout the pandemic. With the partial return of the plane to operations in December 2020, the brand was hoping for a turbulence-free future to counter its significant losses and job cuts. However, as the brand hit the headlines once again with its 737-500 passenger plane crashing in Indonesia at the beginning of this year, it may not be the end of Boeing's troubles.
David Haigh, CEO of Brand Finance, commented:
"Few sectors have been as deeply affected by the pandemic as the aviation industries. These brands are no stranger to rough patches, from the 2001 terror attacks and the 2008 financial crisis, to more recently the growing spotlight on their contribution to the climate crisis. The road to recovery and hopes are pinned on the speedy and successful roll out of the vaccines to open borders and kick-start the global economy once again."
Hotels check out of top 500
As holidays are cancelled and people are instructed to work from home, the hospitality sector has reached an almost complete standstill both from tourism, as well as corporate travel. The world's most valuable hotel brand, Hilton,has seen a 30% drop in brand value to US$7.6 billion. While Hilton's revenue has taken a significant hit since the outbreak of the pandemic, the brand is showing confidence in its growth strategy, announcing a further 17,400 rooms to its pipeline, bringing the total to over 400,000 new rooms planned – an uplift of 8% on the previous year. Hilton's rival, Marriott, has dropped out of the ranking this year, after losing more than half of its brand value.
While hotels check out, online booking platforms are crashing too. Booking.com has recorded a 19% brand value loss to US$8.3 billion, simultaneously dropping 43 positions in the ranking from 177 th to 220 th . Airbnb is anotherdropout this year, after two-thirds of its brand value eroded.
Restaurants left hungry for growth
Another hospitality sector, the world's largest fast food and cafe chains have borne the brunt of global lockdown initiatives, with closures destroying sales and social distancing measures changing the way in which customers dine for the foreseeable future. Global leaders in the sector, Starbucks (down 6% to US$38.4 billion), McDonald's (down 10% to US$33.8 billion),and KFC (down 12% to US$15.1 billion),have all recorded brand value losses.
With consumer habits being forced to change towards delivery and collection, brands that are already set up to accommodate this under their operations have managed to shelter themselves somewhat from the damage of the pandemic. Domino's Pizza for example, which operates purely on takeaway and collection,has recorded a healthy 7% brand value increase to US$6.1 billion.
Global titans reign supreme
Looking at brand value breakdown by country, US and Chinese brands dominate the Brand Finance Global 500, together accounting for two-thirds of the total brand value in the ranking. In China, ICBC is the country's most valuable brand and has managed to maintain its position in the global elite, despite a 10% drop in brand value to US$72.8 billion. However, with seven brands, the US still holds the lion share of the top 10.
Investments in infrastructure from the government have seen China build an engineering and construction market that is a force to be reckoned with even in the days of the pandemic, while Western countries struggle to keep pace. The sector's most valuable brand, CSCEC,which increased in value by22% to US$30.4 billion, snagged a spot in the top 50, a result of the brand's impressive increase in revenue.
WeChat overtakes Ferrari
Apart from calculating brand value, Brand Finance also determines the relative strength of brands through a balanced scorecard of metrics evaluating marketing investment, stakeholder equity, and business performance. Certified by ISO 20671, Brand Finance's assessment of stakeholder equity incorporates original market research data from over 50,000 respondents in nearly 30 countries and across more than 20 sectors. According to these criteria, WeChat has usurped Ferrari to become the world's strongest brand with a Brand Strength Index (BSI) score of 95.4 out of 100. The Chinese mobile app is one of merely 11 brands in the ranking to have been awarded the elite AAA+ brand strength rating.
Alongside revenue forecasts, brand strength is a crucial driver of brand value. As WeChat's brand strength grew, its brand value also enjoyed a rapid boost, increasing by 25% to US$67.9 billion and jumping 9 spots on the ranking to enter the top 10 for the first time.
As one of China's home-grown tech successes with very strong equity, WeChatenjoyed high scores in reputation and consideration among Chinese consumers, according to Brand Finance's original market research. The brand has successfully implemented a broad and all-encompassing proposition, offering services from messaging and banking, to taxi services and online shopping – the all-in-one app has become essential to many users' daily lives.
During the pandemic, WeChat ran several government-mandated health code apps to keep track of those travelling or in quarantine, providing access to real-time data on COVID-19, online consultations, and self-diagnosis services powered by artificial intelligence to over 300 million users.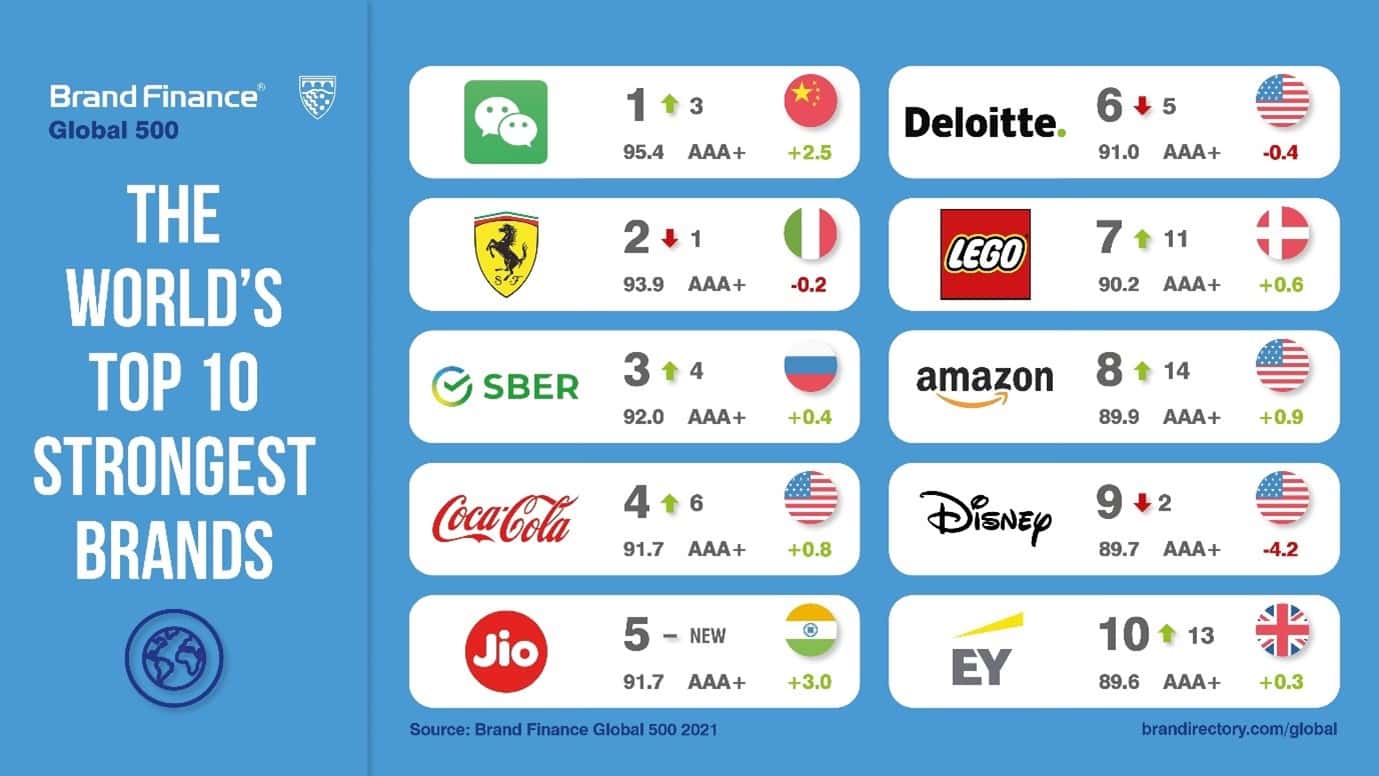 Second-placed Ferrari – still boasting an extraordinary BSI score of 93.9 out of 100 – reacted pro-actively to the pandemic, initially shutting down production facilities and then reopening with a focus on creating a safe working environment. This both minimised disruption and reinforced the brand's reputation as a high-quality and responsible firm.
Sber has increased in brand strength year-on-year to become the third strongest brand in the Brand Finance Global 500 with a BSI score of 92.0 out of 100. As the largest bank in Russia, Sber has benefitted from its stable brand and high levels of customer loyalty. These have only been boosted by the recent rebranding to consolidate its ecosystem of services – encompassing banking, health, and logistics, among others – around a cross-sector tech-focused Sber brand.
Meet the world's top Brand Guardians
This year's top CEO in the Brand Finance Brand Guardianship Index is Mastercard's Ajay Banga. Mr Banga announced his transition from CEO to executive chairman in 2020, rounding off a successful and decorated 10 years as CEO. Since taking the helm of Mastercard, Mr Banga has embraced technological innovation, ensuring the brand remained relevant despite a period of rapid change in financial services. Mr Banga also champions the idea of financial inclusion, and has leveraged his influence to build strategic partnerships with financial institutions worldwide to help fight poverty.
David Haigh, CEO of Brand Finance, commented:
"COVID-19 has presented perhaps the greatest challenge to all CEOs this year. Leaders have had to both protect the financial interests of shareholders and protect their people from the very real threat to health and life posed by the pandemic. It has required resolve and vision to safeguard — and in some cases grow — one of these leaders' most important assets, their company's brand."
Источник